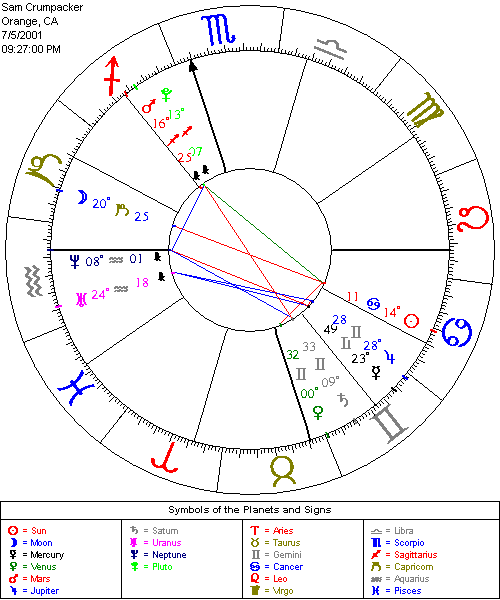 Rising Sign is in 07 Degrees Aquarius

You like new ideas and concepts, but you prefer to discover them by yourself -- it is not easy for others to convert you to anything. You form your own opinions, but once you do form them, you then want to convince everyone else that they are correct. Try to be more tolerant of the opinions of others. You have a deep and abiding interest in science, mathematics, and the great social problems of the day. Very sympathetic toward the downtrodden, equality is your battle cry! You demand that those in authority be fair to all. You are an intellectual -- emotions and emotional people are difficult for you to understand. You are known for being calm, cool, detached and objective.

Sun is in 14 Degrees Cancer

Very emotional and sensitive, you have an intuitive understanding of the "vibes" around you. You tend to be quite generous, giving, loving and caring, but only when your own needs for emotional support, love and security have been met. If they are not met, you tend to withdraw into yourself and become very insecure and selfish. Your home and family (especially your mother or the person who played that role for you early on) represent security for you and thus assume a larger-than-life importance. Very sentimental, you have vivid and long-enduring memories of the past. No matter how well adjusted you are, you will always need a secret quiet place of your own in order to feel at peace. Feeding others can give you great pleasure you would enjoy being part of a large family.

Moon is in 20 Degrees Capricorn

You are serious and shy and very uncomfortable in those situations where spontaneous and exuberant emotional reactions seem called for. An achiever, you prefer doing practical, worthwhile things that produce tangible results. You need role models to respect, love and emulate. You tend to feel that you're a failure unless you get an important and highly respected position in life. Don't be so hard on yourself! For you, practical needs always win out over emotional considerations. Remember that you too have the right to comfort, security and love. Dutiful and patient, when you make an emotional commitment, you sign on for the long haul -- your love is long-enduring.


Mercury is in 23 Degrees Gemini

Your mind is active, quick and agile. You are very restless and you get bored easily. Unless you receive constant mental stimulation, you become extremely nervous and begin to act in an unstable manner. You are probably a good student because of your natural inquisitiveness. You also love to travel. Your learning tends to be superficial, though, because you have a relatively short attention span. Try to develop the mental discipline to finish what you start. Also, you tend to talk on at times seemingly just to fill space -- make sure that your conversation has some substance to it or others will start avoiding you.

Venus is in 00 Degrees Gemini

You are friendly, warm, open and tolerant toward others. You love variety in relationships, indeed you may even prefer to maintain more than one relationship at a time! Very witty and humorous, you have the ability to amuse and please others. This makes you quite popular. You love to play the field and thus find it difficult to settle down and make any deep emotional commitments. Your innate charm and vivacity makes you welcome most everywhere you go.

Mars is in 16 Degrees Sagittarius

Your every action is motivated by high moral standards and ideals. You will work very hard to improve the lot of the world at large, but you demand action about it -- you do not like to just sit around and talk about doing it in an abstract manner. You like to be where the real action is. You resist mightily any attempts to limit your freedom and you will assist anyone who feels put down and restricted. You are extremely restless by nature -- physical exercise is very important to you if you would maintain your health.

Jupiter is in 28 Degrees Gemini

You have a logical, detached, objective view of most things. Your interests are wide-ranging and you are an avid student, with expertise in many different areas. You love to work things out in your mind -- everything you do is reduced to an exercise in logic and reason. You have the ability to grasp abstractions and to deal successfully with the larger issues of life. Your overemphasis on developing your powerful intellect can cause your emotional and intuitive abilities to atrophy unless you consciously choose to
exercise them.

Saturn is in 09 Degrees Gemini

You are such a clear thinker and speaker, with a logical orderly mind, that you are repulsed by abstract, intangible or unorganized thoughts or ideas. But you tend to get uptight about speaking in public because you are afraid to be wrong. Remember that the best way to learn is by making mistakes. Also, you will be so carefully prepared that you probably will not make many mistakes anyway. To be interesting to you, ideas have to be practical and useful.

Uranus is in 24 Degrees Aquarius

You, and most of your peer group as well, are reformers at heart. You want to make positive changes that will benefit society as a whole. You are willing to devote your time and energy to see that they come about, especially if the proper group support and combined purpose of will can be found. Be careful that your devotion to group goals does not produce too much friction or neglect in your own interpersonal one-on-one relationships.

Neptune is in 08 Degrees Aquarius

You, and your entire generation, will idealize and even venerate the ability to remain detached as well as the ability to objectively analyze any given situation. There will be a concerted effort on your part to cure the ills of society as a whole. But be very careful to continue to maintain and protect the rights of individuals in the midst of these potentially far-reaching changes.

Pluto is in 13 Degrees Sagittarius

For your entire generation, society's cherished beliefs and totems will be radically changed. Many traditional concepts will be totally altered, if not completely destroyed. The rights of individuals to pursue their own course in life will be reasserted.